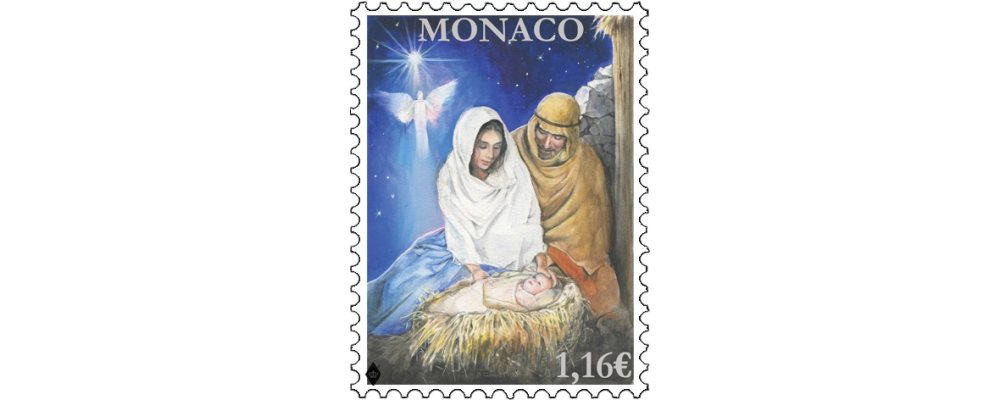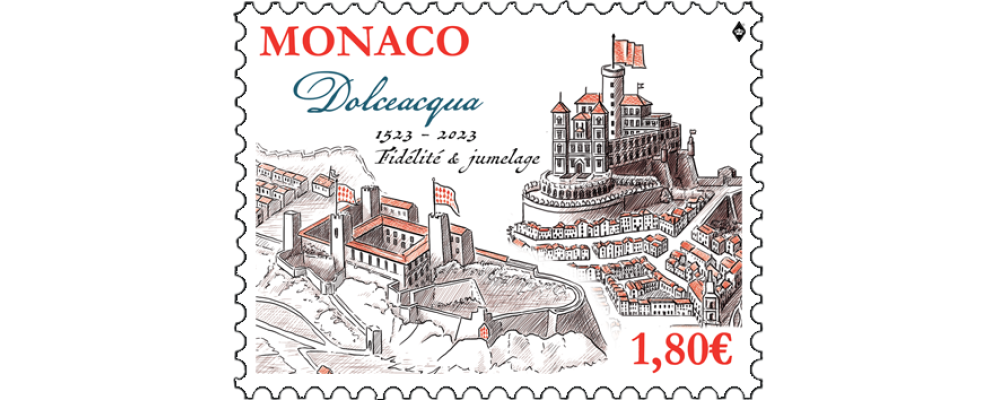 New issues on 3 November 2023
CHRISTMAS 2023
A traditional theme of the philatelic program, the Christmas stamp offers a soft and peaceful representation of the Nativity.

Design: Stefanie VAN ZYL
Printing process: Offset
Size of the stamp: 30 x 40,85 mm vertical
Quantity of issue: 55 000 stamps
Sheet of 10 stamps with illuminations
HISTORICAL SITE OF THE GRIMALDIS OF MONACO - DOLCEACQUA
The ties that unite Dolceacqua and the Grimaldi family date back to the Renaissance. In the parish church of Dolceacqua, you can admire the altarpiece of Saint Dévote, made by Louis Bréa, commissioned by Françoise Grimaldi, in her will, in 1515. In recent years, relations between Monaco and Dolceacqua have intensified through actions such as the inauguration of a room Doria-Grimaldi in the Doria Castle in Dolceacqua or the title of "Honorary Citizen" conferred on H.S.H. the Prince Albert II. The twinning between the two municipalities, which will be celebrated on November 3, 2023, aims to strengthen this bond of solidarity. An anniversary date since it was on November 3, 1523, in Monaco, that the trustees of Dolceacqua, Apricale, Isolabona and Perinaldo were sworn in in the presence of Augustin Grimaldi, Bishop of Grasse and Lord of Monaco.
Design and line-engraving: Line FILHON
Printing process: 4 colours steel-engraving
Size of the stamp: 40 x 31,77 mm horizontal
Quantity of issue: 36 000 stamps
Sheet of 10 stamps with illuminations


These issues will be on sale at the "Office des Timbres", the "Musée des Timbres et des Monnaies", the post offices and philatelic counters of the Principality, the Monaco stamp-dealers as well as the "Carré d'Encre" in Paris, France. They will be included, with other values, in the 2nd Part of the philatelic programme 2023 and offered to our subscribers and customers.