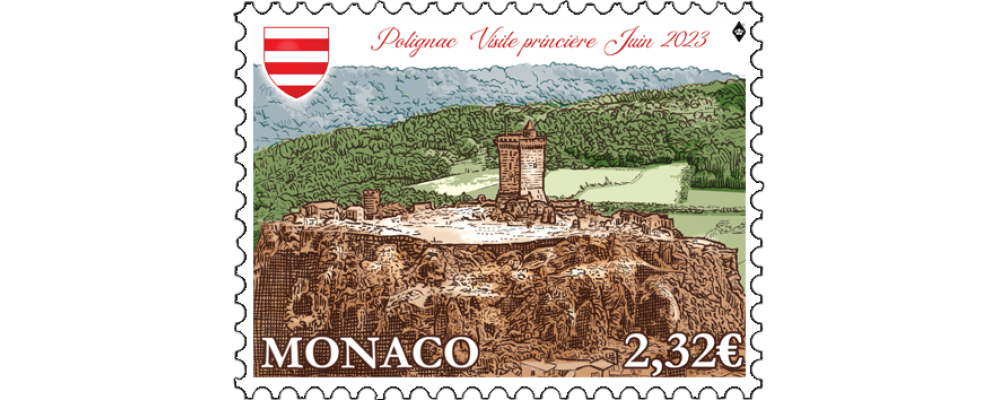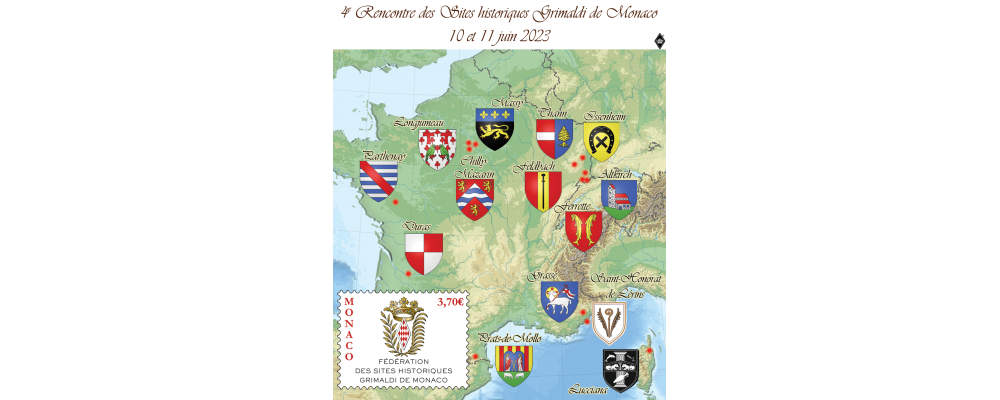 New issues on 1 June 2023
HISTORICAL SITE OF THE GRIMALDIS OF MONACO: POLIGNAC
The village of Polignac, in the department of Haute-Loire, is the birthplace of Count Pierre de Polignac who married, in 1920, Princess Charlotte Grimaldi, Duchess of Valentinois and daughter of Prince Louis II of Monaco. According to the rules of succession and dynastic substitution established in the 15th century, Pierre de Polignac must renounce his name and his arms, and becomes Prince Pierre of Monaco. From this union were born Princess Antoinette and Prince Rainier, future sovereign of the Principality. The stamp represents the Fortress of Polignac, a site classified as a Historic Monument since 1840.

Design and line-engraving: Elsa CATELIN
Printing process: 6 colours steel-engraving
Size of the stamp: 40 x 31,77 mm horizontal
Quantity of issue: 40 000 stamps
Sheet of 10 stamps with illuminations
4th MEETING OF THE HISTORICAL SITES OF THE GRIMALDIS OF MONACO
The 4th Meeting of the historical Sites of the Grimaldis of Monaco, which will be held on June 10 and 11, 2023, will have the pleasure of welcoming former "fiefdoms" of the Grimaldi dynasty. This year will be invited: the Haut-Rhin with the municipalities of Issenheim, Altkirch, Thann, Ferrette and Feldbach; Lot-et-Garonne with Duras; the Pyrénées-Orientales with Prats-de-Mollo; Deux-Sèvres with Parthenay; Essonne with Longjumeau, Chilly-Mazarin and Massy, as well as certain municipalities in the Alpes-Maritimes such as Grasse or Île Saint-Honorat or even Haute-Corse with Lucciana. This event, placed under the sign of conviviality, will allow the public to discover the cultural, artisanal, folkloric and gastronomic heritage of these Sites linked to the history of the Principality.
Layout: CREAPHIL
Printing process: Offset
Size of the block: 100 x 120 mm vertical
Size of the stamp: 40 x 30 mm horizontal
Quantity of issue: 35 000 blocks


The "Polignac" stamp will be on sale at the "Office des Timbres", the "Musée des Timbres et des Monnaies", the post offices and philatelic counters of the Principality, the Monaco stamp-dealers as well as the "Carré d'Encre" in Paris, France. The block "4th meeting of the historical Sites of the Grimaldis" will be sold exclusively by the "Office des Timbres", the "Musée des Timbres et des Monnaies" and in the sales network of the Principality. Both issues will be included, with other values, in the 2nd Part of the philatelic programme 2023 and offered to our subscribers and customers.