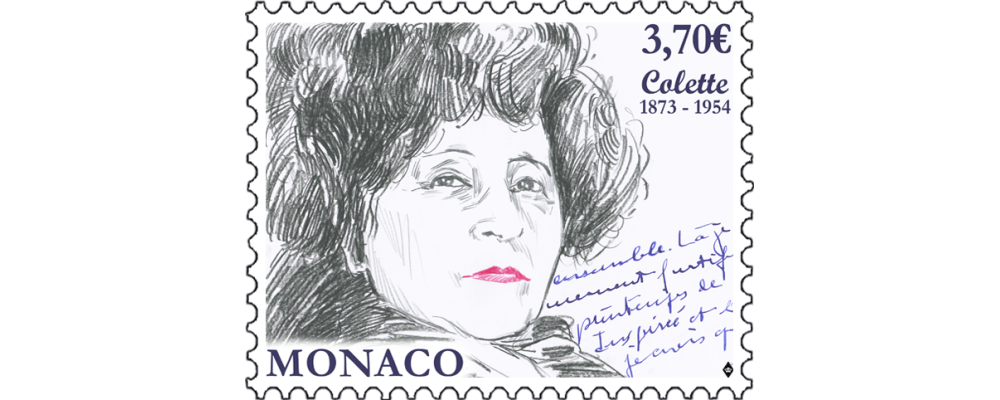 New issue on 30 January 2023
150th ANNIVERSARY OF THE BIRTH OF COLETTE
Born in 1873 in Saint-Sauveur-en-Puisaye (Yonne), Sidonie Gabrielle Colette lived there until her marriage in 1893 to Henri Gauthier-Villars, dit Willy. It was he who encouraged her to write the series of four Claudine (1900-1904). Divorced in 1906, she became a mime while continuing to write – novels or memories: Les Vrilles de la vigne, La Vagabonde, Dialogues de Bêtes, La Retraite sentimentale or L'Envers du music-hall. She contributed articles to Le Matin, where she married the editor-in-chief, Henri de Jouvenel, in 1912. Member of the Royal Academy of Belgium (1936) and of the Goncourt Academy (1944), she died in Paris in 1954. her style and the scope of her work, she ranks among the best writers of the 20th century. Colette frequented the Côte d'Azur a lot and in particular Monaco, which she said in 1950 that it was the "only country whose borders are flowers".

Design: Cyril DE LA PATELLIÈRE
Line-engraving: Claude JUMELET
Printing process: 3 colours steel-engraving
Size of the stamp: 52 x 40,85 mm horizontal
Quantity of issue: 36 000 stamps
Sheet of 6 stamps with illuminations


This issue will be on sale at the "Office des Timbres", the "Musée des Timbres et des Monnaies", the post offices and philatelic counters of the Principality, the Monaco stamp-dealers as well as the "Carré d'Encre" in Paris, France. It will be included, with other values, in the 1st Part of the philatelic programme 2023 and offered to our subscribers and customers.