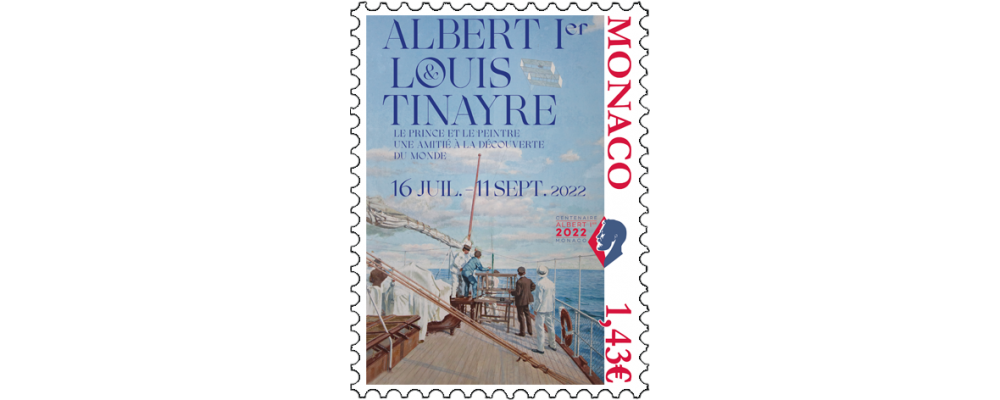 New issue on 18 July 2022
EXHIBIT - ALBERT I AND LOUIS TINAYRE
From July 16 to September 11, 2022, the Quai Antoine I room in Monaco will house the exhibition "The Prince and the Painter. Albert I and Louis Tinayre, a friendship discovering the world". It will present the work of Tinayre, which has remained unknown, giving pride of place to the drawings and paintings made for Prince Albert I. A graduate of The Budapest Academy of Fine Arts, Louis Tinayre became a newspaper illustrator for Le Monde. His drawings, dioramas and panoramas were shown at the Universal Exhibition in Paris in 1900. Prince Albert I appreciated his work and asked him to accompany him on his scientific campaigns and hunting expeditions from 1904.

Design: © Coll. Oceanographic museum of Monaco. / Phot. Geoffroy Moufflet - Palace Archives / Graphic design Agnès Rousseaux
Printing process: Offset
Size of the stamp: 30 x 40,85 mm vertical
Quantity of issue: 40 000 stamps
Sheet of 10 stamps with illuminations


This issue will be on sale at the "Office des Timbres", the "Musée des Timbres et des Monnaies", the post offices and philatelic counters of the Principality, the Monaco stamp-dealers as well as the "Carré d'Encre" in Paris, France. It will be included, with other values, in the 2nd Part of the philatelic programme 2022 and offered to our subscribers and customers.