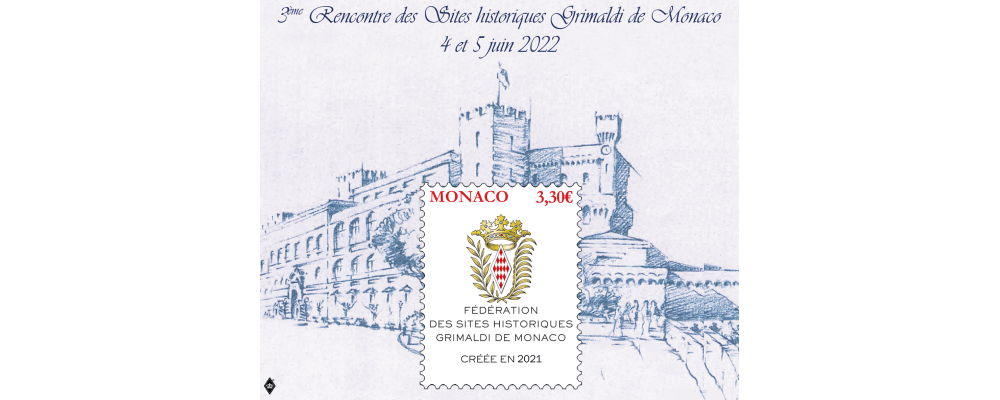 New issue on 3 June 2022
FEDERATION OF THE GRIMALDI OF MONACO HISTORIC SITES
To mark Its attachment to the idea and the dynamics developed over the past few years by the "Association des Sites historiques Grimaldi de Monaco", under French law, founded in 2015, and now by the Association "Siti storici Grimaldi di Monaco", Italian law, and to coordinate the actions of these two national associations, HSH Prince Albert II has decided to create a Federation of the Grimaldi of Monaco Historic Sites, under Monegasque law, which He Himself will chair. The 3rd Meeting of the Historic Sites will be held on June 4 and 5, 2022 and will welcome former "fiefdoms" of the Channel, the Alpes-Maritimes and the Territoire de Belfort.

Design of the Palace: Alain GIAMPAOLI
Line-engraving of the Palace: Line FILHON
Printing process: Steel-engraving and offset
Size of the block: 120 x 100 mm
Size of the stamp: 40 x 52 mm vertical
Quantity of issue: 35 000 blocks


This issue will be sold exclusively by the "Office des Timbres", the "Musée des Timbres et des Monnaies", and in the sales network of the Principality, the Monaco. It will be included, with other values, in the 2nd Part of the philatelic programme 2022 and offered to our subscribers and customers.