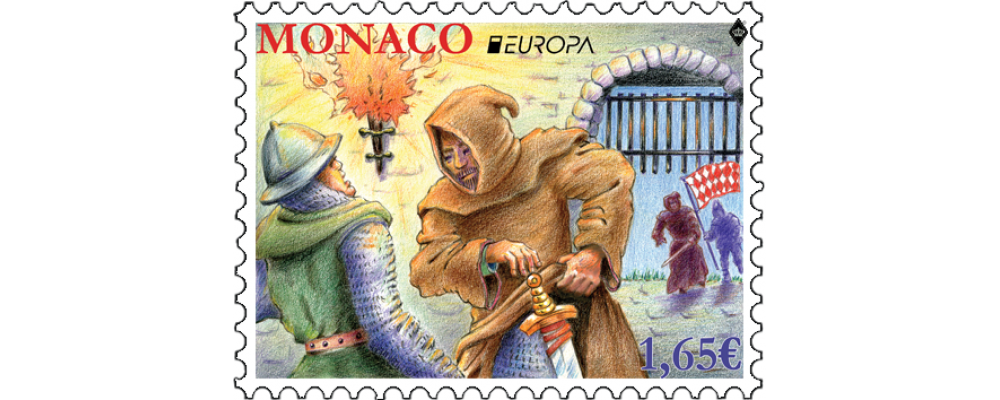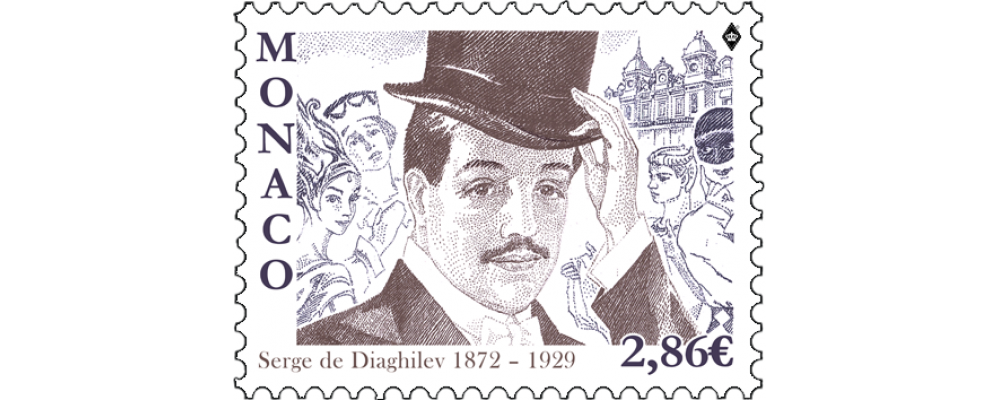 New issues on 9 May 2022
EUROPA - MYTHS AND STORIES: MALIZIA
Europa stamps are among the most collected and popular in the world. To illustrate this year's theme, centered on myths and stories, the Office des Timbres de Monaco has chosen to represent François Grimaldi, known as Malizia, who, on the night of January 8, 1297, disguised as a Franciscan monk, took over tricks the fortress of Monaco to the Ghibellines, thus installing the Grimaldi dynasty.

Design: Alain GIAMPAOLI
Printing process: Offset
Size of the stamp: 40,85 x 30 mm horizontal
Quantity of issue: 40 000 stamps
Sheet of 10 stamps with illuminations
150th ANNIVERSARY OF THE BIRTH OF SERGE DE DIAGHILEV
Born 150 years ago, on March 19, 1872, Serge de Diaghilev was one of the most important promoters of Russian art abroad. In 1909, he revolutionized the world of dance with the first performances of the Ballets Russes at the Théâtre du Châtelet in Paris, which combined vitality, grace, originality and virtuosity. Diaghilev's masterful productions confronted the greatest dancers, choreographers, artists and composers such as Nijinski, Pavlova, Fokine, Massine, Debussy, Stravinsky, Prokofiev, Bakst, and Picasso to name but a few. From 1911, his company performed regularly in Monte-Carlo and certainly contributed to its artistic influence. Diaghilev brought modernity, experimenting with new styles of movement, themes and settings. Some of these most striking creations, such as The Afternoon of a Faun (1912) and The Rite of Spring (1913), caused a scandal at the first performance.

Design: Guerogui CHICHKINE
Line-engraving: Pierre ALBUISSON
Printing process: 3 colours steel-engraving
Size of the stamp: 40 x 31,77 mm horizontal
Quantity of issue: 40 000 stamps
Sheet of 10 stamps with illuminations


These issues will be on sale at the "Office des Timbres", the "Musée des Timbres et des Monnaies", the post offices and philatelic counters of the Principality, the Monaco stamp-dealers as well as the "Carré d'Encre" in Paris, France. They will be included, with other values, in the 2nd Part of the philatelic programme 2022 and offered to our subscribers and customers.