SALON PHILATELIQUE D'AUTOMNE - Paris - From 7 to 9 November 2019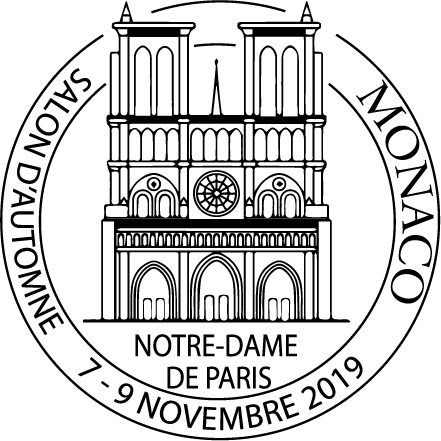 The Stamp Issuing Office of Monaco will have a booth during the 73th Salon philatélique d'Automne in Paris. The latest issues will be available as well as First Day Covers, exclusive products and the souvenir cancellation of the event.
Espace Champerret - Hall A - Porte de Champerret Paris 17°
From 7 to 9 November 2019
From 10 am to 6 pm except on Saturday 9 (until 5 pm)
Booth D14
MONACOPHIL 2019 - MONACO - From 28 to 30 November 2019

International philatelic event under the patronage of HSH Prince Albert II, MonacoPhil will take place from November 28 to 30, 2019. The event will have three components: a commercial exhibition at Espace Léo Ferré, bringing together international dealers, postal administrations, with artists signing sessions and engraving demonstration; an exhibition of 100 stamps and emblematic documents at the Museum of Stamps and Coins; and finally, at the Monaco Top Cars Collection, two exhibitions; one devoted to Egypt and the other to maritime postal history. The Stamp Issuing Office of Monaco will have a large sales booth and will offer advance issues from the 2020 program as well as exclusive limited edition folders.
Terrasses de Fontvieille - 98000 Monaco
From Thursday 28 November to Saturday 30 November 2019
From 10 am to 5.30 pm
Office des Émissions de Timbres-Poste © 2019